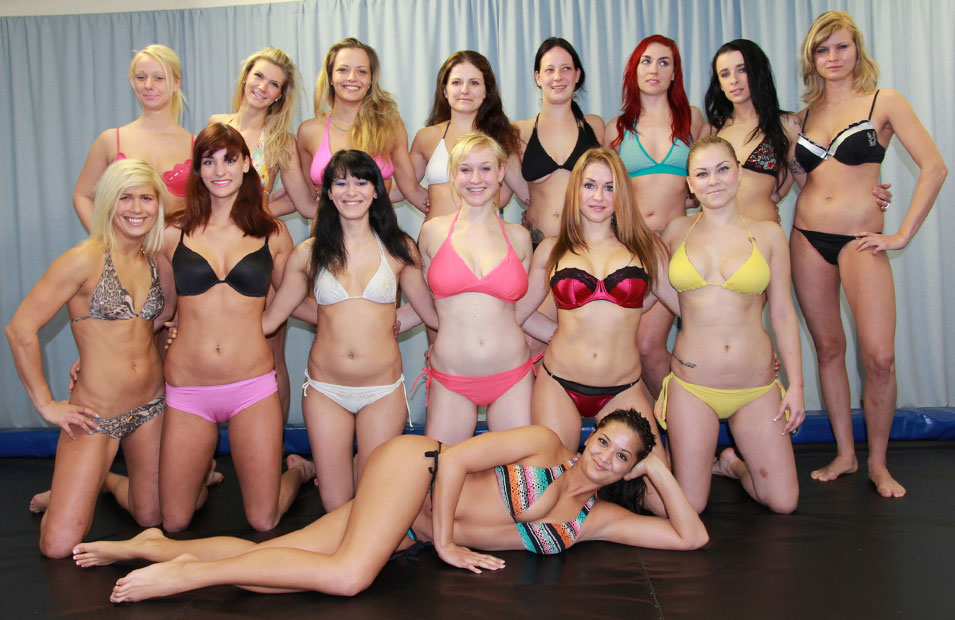 standing – behind – from left : Michaela + Eva + Chrissie + Yvonne + Vladka + Luna + Ramona + Andy
on knees : Denny + Claire + Zamira + Pamela + Donna + Crystl
in front : Kim-Ly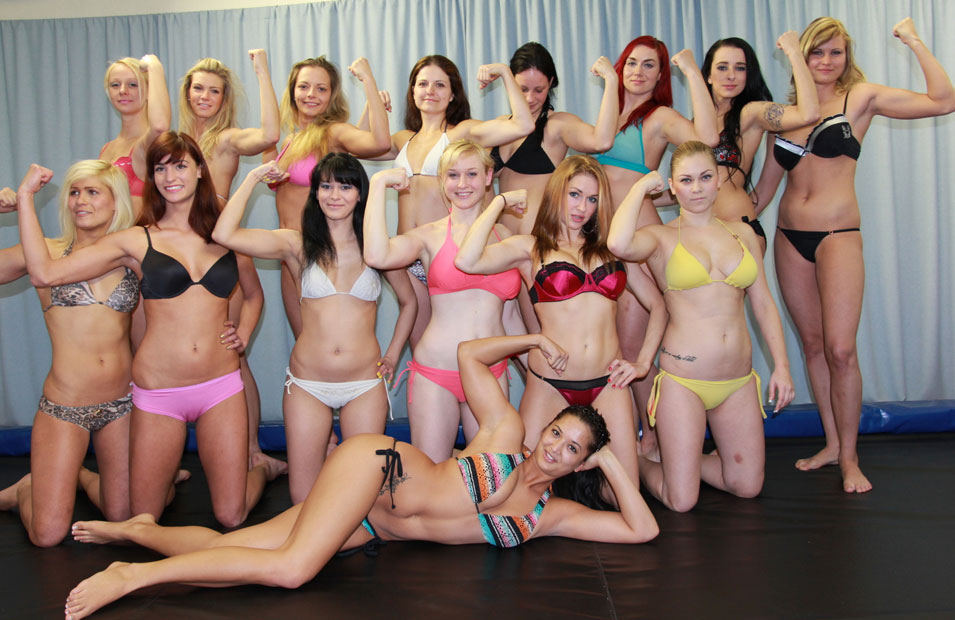 Last weekend fighting-dolls organized an outstanding spring-live-event in the FD-studio in Brno. On friday and saturday the live-audience enjoyed 23 matches altogether with 22 different girls. It was a perfect mixture with catfights + p+s-wrestling-matches + mixed-matches + jeans-fights.
Kim-Ly + Luna + Claire + Tiffany + Vladka + Anastasia + Pamela + Sandra + Monique + Eva-N + Mel + Chrissie + Donna + Denny + Sonia + Anni + Peggy + Crystl + Andi + Zamira
new-girls: Ramona + Michaela
Also there were 5 more czech wrestlers ready for private mixed-matches, who did not participate this time in the official-program, as Anita + Cathy + Jenny + Mary-Ann + Yvonne.
The audience was again very international with wrestling-fans from all over the world – from USA + Canada + Australia + Germany + France + Austria + Switzerland.
Friday-matches:
Sandra vs Peggy – sponsored-match – pins-to-submission
Anastasia vs Luna – catfight
Crystl vs Sonia – p+s
Claire vs Monique – catfight
Anni vs Andy – p+s
Eva vs Sonia – p+s

rest

Anni vs Michaela (newcomer) – p+s
Mel vs Peggy – catfight
Kim-Ly vs Sandra – stopped by an injury of Sandra after a brutal and very hard crushing-bodyscissors from Kim-Ly
Luna vs Vladka – p+s – big-girls – great-fight
Kim-Ly vs Claire – p+s – SUPER-match !
Donna vs Peggy – p+s – one-sided-match
Tiffany vs Waldemar – Mixed – great mixed-fight – 100 % competitive
Saturday-matches:
Eva vs Zamira – p+s
Anni vs Crystl – p+s
Kim-Ly vs Vladka – p+s
Donna vs Pamela – p+s

team-photo-shooting with 15 girls

Crystl vs Ramona (newcomer) – p+s – in long-jeans
Claire vs Chrissie – p+s – fantastic-fight !
Andy vs Michaela (newcomer) – p+s – one-sided-match
Denny vs Zamira – p+s – in jeans-shorts
Pamela vs Rene – Mixed – 100 % competitive
Denny vs Ramona (newcomer) – p+s – one-sided-match
Update no. 1
most live-matches at the event: Anni + Claire + Crystl + Kim-Ly + Peggy – all had 3 live-matches
especially the 3 Claire-live-matches were absolutely great. Claire was the most popular wrestler at the spring-event – and she surprised Kim-Ly with a very strong performance in their match – Kim-Ly had her hands full with the attractive sports-girl Claire !
okay – one of the 3 Kim-Ly-matches (vs Sandra) was only a "short" match, because Sandra had to stop this fight after a rip-injury after a crushing and brutal bodyscissors – Sandra had lots of pain. deadly legs of Kim-Ly !
shooting-star of the event: Andy
young 2012-newcomer Andy catched lots of new-fans this event. Andy had a new-hairstyle – she looks definitely much more beautiful than in october-2012 – and Andy improved a lot since october-2012 and showed 2 strong performances in her 2 live-matches vs beautiful Anni and vs 2013-newcomer Michaela. Andy dominated Michaela totally in this one-sided-p+s-wrestling-match !
Andy has also a nice personality, was open-minded to the guests. Andy is a real offense-wrestler – she attacks her opponents from the first second of the match.
Andy improved in every match during the event – she improved every day – and she was also very requested at the private mixed-sessions – and she surprised the mixed-guys very much with great and strong performances and much fun in her private mixed-sessions and catched also many new-fans on this way !
Andy – one of the biggest stars of the FD-spring-event-2013 !
new-girls: Ramona + Michaela
both new-girls need more matches to improve !
but tattooed-girl Ramona made a very even p+s-wrestling-match vs blonde + busty Crystl – with many falls on both sides – it was a very hard match for beautiful and more experienced Crystl.
also new-Ramona looks a bit as "a bad-girl" with her big tattoos on her back and on her arms. some of the guests told me : "Ramona with all her big-tattoos made the feeling of a dangerous and bad girl ;-)" – okay – tastes are very different.....
most improved :
Andy + Peggy + Zamira
all are 2012-newcomers – and all 3 improved a lot since their first live-event in october-2012. all 3 wrestlers had many fights during the last months – and we could see and registrate their improving in all of their live-matches.
Zamira is a talented beautiful wrestler with good emotions in her fights – and she is ready yet to give experienced-girls as Eva + Mel good and even-fights.
Peggy is a strong + powerful sports-girl with a fantastic well-trained sports-body – and a fantastic "six-pack" – WOW !
Andy – please read the text about "shooting-star of the event".
very interesting to see which wrestling-level these 3 wrestlers will arrive until the next FD-event.....
also "more-improving":
Kim-Ly + Claire + Chrissie
all these 3 girls were the "most-improving-FD-wrestlers-2012" – and all 3 continued their way to the top in the FD-ranking !
Kim-Ly has already arrived in the "Top-5" – she is very dangerous with her crushing and deadly bodyscissors and her perfect breastsmother-pins – and Kim-Ly will never give up !
Chrissie is definitely one of the greatest wrestling-talents i have ever seen on the wrestling-mats !
in her size and weight are only a few-wrestlers on her high-wrestling-level in the FD-team (of course Sandra – and perhaps strong Eva) – and so Chrissie has to wrestle yet vs "bigger + heavier" girls yet – and Chrissie already win vs lots of the bigger girls. Chrissie vs Claire was an excellent p+s-wrestling-match ! – definitely one of the best at the spring-event !
Claire – she is so strong and has such a well-trained sports-body. she told me on friday, that she wanted to train in the gym between her matches – Claire was in excellent shape at the event and in perfect fitness.
and you can see it in every Claire-match : Claire enjoy wrestling very much ! – she has lots of fun to wrestle with girls AND boys on the mat !
no wonder that Claire is yet one of the most popular wrestlers at the live-guests – and also at the mixed-fans !
Kim-Ly + Claire + Chrissie are definitely yet some of the biggest stars in the fighting-dolls-team – wonderful wrestling-girls !
most falls in one match:
Crystl vs Ramona – interesting and very even wrestling-match – the advantages were changing every minute – and there were many pins and submissions in this match : beautiful + busty blonde vs dangerous + dark-haired tattooed girl !
perfect bridges:
Zamira + Peggy + Monique
some of the girls are as talented and very flexible gymnasts !
sometimes unbelievable to enjoy their perfect bridges in the defense, which they try to use to escape and to move on top – super !
best breastsmother-pins:
Kim-Ly + Pamela
this event the most perfect and best breastsmother-holds are from Kim-Ly + Pamela.
they used their "female-weapons" and big-breasts for some outstanding and "dark" breastsmother-pins – hard times for their opponents – and the audience enjoyed this new-female-wrestling-holds very much ;-)
best biceps:
Denny + Eva + Sandra + Peggy + Anastasia (only left)
WOW – as a fan of female-biceps fantastic to enjoy their "biceps-at-work" – at biceps-posing + arm-wrestling + in their matches – especially good working in different pins !
Denny´s biceps was perhaps the best this time.......
best matches:
difficult point…- because there were so many great p+s-wrestling-matches !
Kim-Ly vs Claire on friday
Luna vs Vladka on friday
Chrissie vs Claire on saturday
okay – please notice that it is my personal taste......
of course there were more "great matches" – as for example Kim-Ly vs Vladka (improving-Kim-Ly vs FD-wrestling-teacher Vladka) – or Denny vs Zamira in jeans-shorts.......
best emotions:
next difficult point.....- i will say : Chrissie + Monique + Kim-Ly + Peggy
but – interesting to hear other feedbacks…
Update no. 2
About private mixed-sessions
on the "mixed-sunday" lots of the event-guests used the possibility for private mixed-matches – 27 of the fighting-dolls-wrestlers were ready for mixed-matches at the spring-event.
of course the private mixed-sessions were "private" – without any audience!
on 2 mats was much "mixed-fun" and "hard-mixed-work" in the studio over the full mixed-sunday.
most requested girls in private mixed-sessions this time were:
Claire + Denny + Andy + Kim-Ly + Luna + Donna + Eva + Mel + Zamira
especially beautiful and strong sports-girl Claire was the most popular girl this spring-event – and she was in fantastic shape during the weekend – and i heard that she was the winner in some of her mixed-sessions !
also muscular blonde Denny and self-confident Andy were very requested on the private mixed-mats.
one of the event-guests was "so enthusiastic" after his first mixed-session with Andy – that he decided to make 2 more mixed-matches with her – so altogether he had 3 private mixed-sessions with improved Andy on the weekend!
of course some of the girls improve also in their private mixed-sessions – this time we could see this especially at Andy.
as every time the "girls-tastes" of the event-guests were different : one guy decided to have his mixed-sessions with some of the best and strongest girls as Luna + Kim-Ly + Claire.
another mixed-fan prefer more the smaller girls for his mixed-sessions as Eva + Donna + Mel + Zamira.
a new-well-trained event-guest decided to test his strength in private mixed-sessions vs experienced girls as Vladka + Sandra + Luna + Chrissie + Kim-Ly – and so on.
each mixed-guy had his own favourite-girls – and it was an exciting and enjoyable mixed-sunday for all the mixed-fans !
but all the girls were ambitious in their private mixed-sessions to win their matches and to beat the "guests" ;-)
all the girls weared "nice" bikinis in the private mixed-sessions – rules were "normal" pins-and-submissions.
Update no. 3
At the spring-live-event were 2 fantastic live-mixed-matches in front of the audience. In this live-mixed-fights 2 young and strong and muscular czech men challenged the strong and experienced fighting-dolls-wrestlers Tiffany + Pamela. Both live-mixed-fights were 100 % competitive and full of ambition from both wrestlers – but they also had fun on the mixed-mat.
Of course the guys do not want to lose vs the attractive sports-girls Pamela + Tiffany – and so there were falls for girls AND boys in the mixed-matches. First on friday-evening tall and extremely strong and powerful Tiffany challenged Waldemar – and this was one of the best and most intensively live-mixed-fights ever seen in the last years – WOW! Tiffany was in excellent shape and she want to show younger Waldemar who is the stronger gender. please look at the strong arm-muscles from Tiffany when she flex her biceps! And – muscular Waldemar was surprised about the strength and wrestling-experience and endurance and strong muscles of Tiffany.
There were headscissors and bodypress-pins and chinlock and bodyscissors and headlocks and reverse bodyscissors in this unbelievable mixed-fight. At the end was a very even and very interesting arm-wrestling-contest – with both arms – and Tiffany did all to beat strong Waldemar......- arm-wrestling-fans will enjoy it very much! For mixed-fans this super-live-mixed-fight is a "must have"! Fighting-dolls released already this live-event-mixed-movie in FD-417 Tiffany vs Waldemar.
On saturday-afternoon blonde and busty Pamela challenged younger guy Rene – and this was another interesting and even live-mixed-fight. It was also a "real" and "competitive" mixed-fight.
Pamela is also an experienced wrestler and in really good shape, because Pamela trains a lot for running a marathon next month. Young Rene know already how to wrestle and so Pamela is in trouble sometimes – but Pamela tried to use her female weapons for some "dark" and enjoyable breastsmother-attacks – guy Rene sometimes had to submit "under" Pamela´s breas­tsmother-pins. Pamela vs Rene was another real and hard – but also entertaining live-mixed-match – and Pamela showed a good and strong performance!
Update no. 4
Event-dinner-party saturday-evening
After more than 20 exciting live-matches and a great and entertaining female-wrestling-show in the fighting-dolls-studio the event-guests/fans invited the girls to a nice and funny and entertaining evening with tasteful food and drinks. 16 ladies followed the dinner-invitation in a restaurant in Brno-centrum. These 16 wrestlers in evening-dresses enjoyed the dinner-party with the event-guests: Anastasia + Andy + Cathy + Claire + Crystl + Denny + Donna + Luna + Mel + Michaela + Pamela + Peggy + Sonia + Tiffany + Vladka + Zamira.
After dinner the girls made an interesting program – and they made a girls-presentation. Some girls, who speak english fluently, presented themselves (as for example Donna & Pamela & Luna) – the other girls were interviewed by Tiffany and told the audience about their hobbies, their sports, their work or studies, their children or their holidays. It was very funny sometimes and most girls catched big applause from the guests for their interesting and sometimes funny replies.
Tiffany as the "show-master" did a really good job! The girls looked outstanding in their evening-dresses – especially Mel & Sonia & Donna & Claire! There was also a thank you for the girls and event-organisators from one of the event-guests – with nice words in english.
Most of the "fans/guys" were happy to sit next to one of the girls – or between 2 girls ;-) After dinner and the "girls-presentation" were lots of conversations between "fans" and "girls" – and some glasses of vine and beer – till midnight…